[responsive]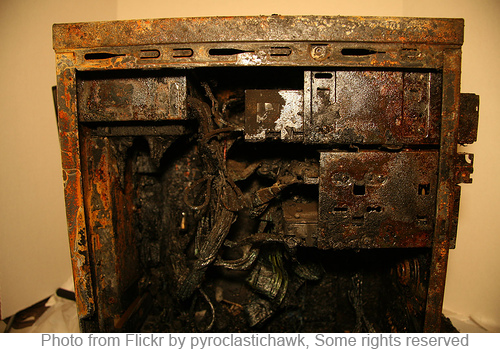 [/responsive]
At Oasis, we knew an IS Manager who was very diligent about performing nightly backups and putting the backups on the shelf in the computer room. One night the building caught fire and burned down. When his boss asked him where the backups were, what do you think the IS Manager said?
Everyone knows that they should do regular backups. And we know that many businesses don't do backups as often as they should — if at all. Even if a business does a backup, many forget to think about protecting their precious backups once they are completed.
Taking your backups off-site and/or putting them in a very safe (and fireproof) place is one of the most essential parts of the backup plan. This is key to making sure that your business survives a disaster – this is commonly part of a Disaster Recovery Plan.
Automate your backups
One challenge with regular backups is that they usually take a long time to finish, and then when you add the additional time it takes to put the backups in a safe place, it is too time consuming. Fortunately, technology has come to the rescue. There are now services that offer secure, automatic, remote backups to take the load off of your shoulders. If your automatic, remote backups are done correctly, they can literally save your company and your business and your livelihood.
Encrypt your backups
Also be aware that if your backups get into the wrong hands, your company could lose valuable information. For this reason, we recommend that you always make sure your backup is encrypted.
Know your legal requirements
Finally, if you are a financial institution, a doctor, a CPA, or other professional who uses your computer to store important information about clients, you could also be legally and financially liable for any information that is stolen via your unprotected  backups. Please be sure to read up on the HIPAA, Gramm-Leach-Bliley, and Sarbanes-Oxley to see how you must legally protect your data.
If you have any questions about setting up a proper backup for your company that is both secure and automatic – please contact Oasis Technology today. We have set up backups and provide other IT support for hundreds of business clients since 1979.
Regards,
George Baldonado
Oasis Technology, Inc
"We put the knowledge in technology" ®